In the fall of 2021 St. Peter's welcomed Peace by Peace Quilters as a ministry of support and comfort to people in need. Similar to Heavenly Hugs, the group creates quilts to give to individuals going through life-changing illnesses, treatments, surgeries, and natural disasters. They have also been called upon to make other items for servicemen overseas, and masks during the pandemic (over 5000!). They also create small, 4-inch square "Pocket Prayers" that can be put in your purse, pocket, or backpack. These squares allow the holder to "rub away your cares." All the items created are blessed before they are distributed and are available by request. It is rare not to be able to fulfill requests, and in such circumstances the group holds the person in need in prayers.
Most recently the group undertook a project to support "Quilts for Survivors," in Canada. The effort is a response to news of the treatment and experience of First Nation, Indigenous survivors of the Indian residential schools in Canada. It is the hope of the creator of this project that the quilts will honor and respect the survivors and provide a measure of comfort and healing as they experience being "wrapped in love."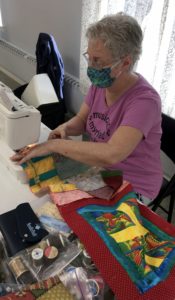 The quilters meet at St Peter's in the parish hall once a month on Saturdays (generally the first Saturday), from 9 A.M. to 2 P.M. Anyone is invited to join the group, or just to stop by to see what they do. The group has a Facebook page and a blog (peacebypiecequilters.blogspot.com).