St. Peter's supports the Friendship Soup Kitchen by preparing meals on the 1st Monday of the month and the 5th Monday when it occurs. 
The Friendship Soup Kitchen is located at the New Covenant United Methodist Church at 16 Church St. in East Hartford. The manager is Pamela Douglas, former program director at the Interfaith Ministries soup kitchen.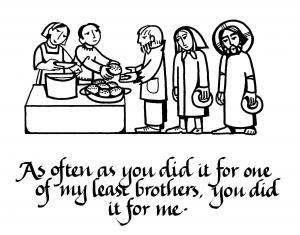 The soup kitchen serves meals to the needy in the East Hartford community, including the homeless, elderly, disabled and substance-addicted residents and the working poor who need to supplement their own food resources. 
Food is provided by Connecticut Foodshare which delivers meat, produce and other food items. The soup kitchen is open Mondays, Wednesdays and Fridays from 3:30 to 5:30 PM and provides hot meals, sandwiches, fresh produce and snacks. Service is carry-out only.  
St. Peter's volunteers arrive at 1:30 PM, review the menu prepared by Pamela, fire up the ovens and get to work. Hot meals are prepared for 60-70 community members. Our responsibility is meal preparation and clean up in the large commercial kitchen.  Other volunteers distribute the meal and the other food items to the clients. 
Each month the meal varies depending on what food has been donated.  We have cooked chicken, ham, egg patties, collards, rice, potatoes, mixed vegetables, bacon and salads.  After filling the takeout containers with the meal, the containers go into a warming oven until distributed.